Buy with Prime implementation
As a Buy with Prime Partner, SpiderBoost stands ready to guide your direct-to-consumer (DTC) business to new heights. Our deep understanding of e-commerce dynamics empowers us to provide you with optimal strategies for business growth.
In line with our commitment to tailor-made solutions, our approach combines the advantages of Buy with Prime with our expertise in load speed, secure data protection, search engine optimization best practices, WCAG ADA Compliance, GDPR Compliance, and mobile-first designs that convert.
With over a decade of experience, our team is skilled in creating and supporting e-commerce websites powered by the Shopify, WooCommerce, and Magento platforms. Trust SpiderBoost to help you successfully integrate Buy with Prime into your online store and propel your business forward.
Grow your DTC store by adding Buy with Prime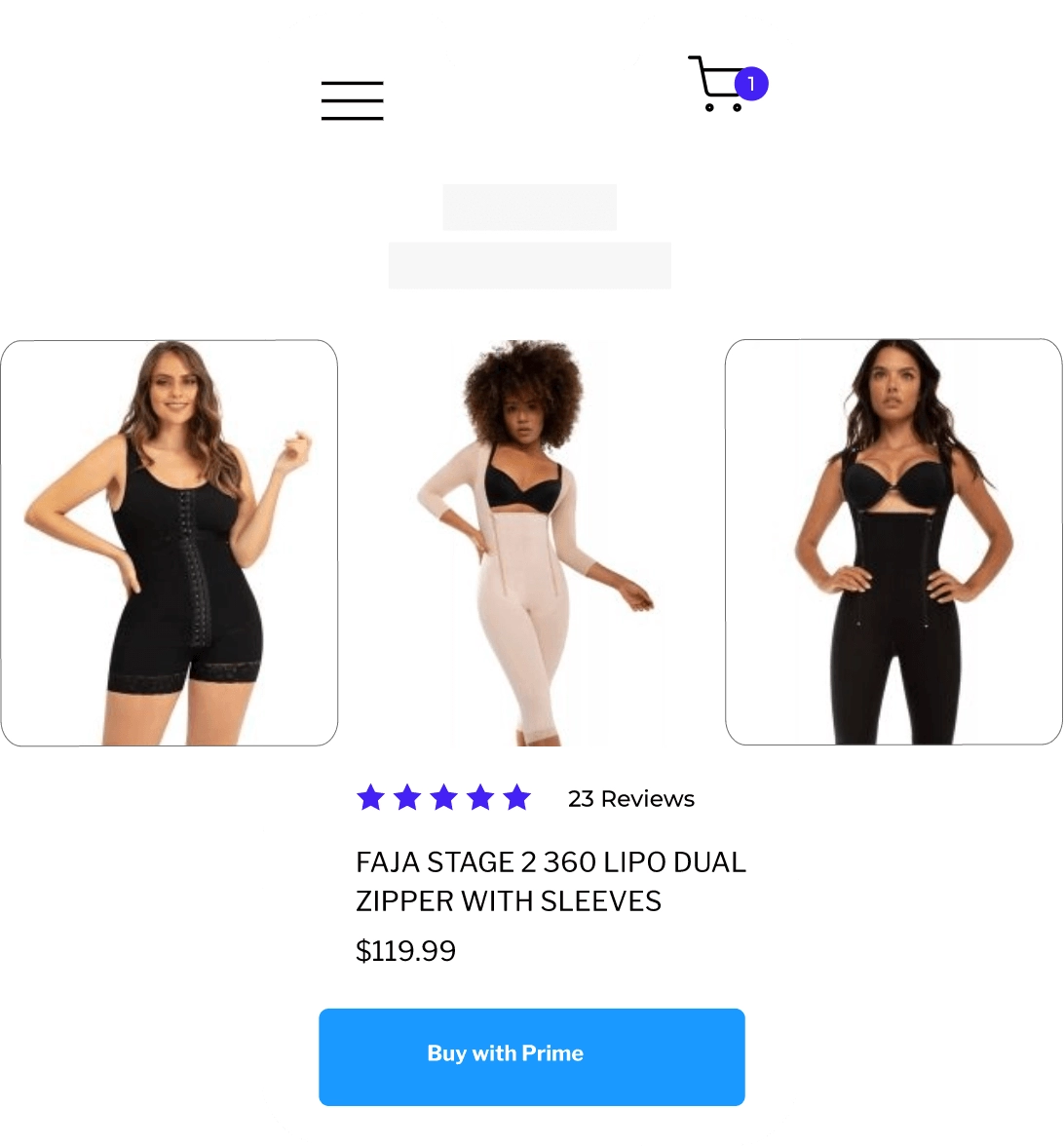 What is Buy with Prime?
Buy with Prime is a program designed to help US-based merchants grow their Direct-to-Consumer (DTC) online businesses. By offering fast, free one-day and two-day shipping, a seamless checkout experience, and the ability to build direct relationships with customers, it enhances the online shopping experience. Especially beneficial for merchants already using Fulfillment by Amazon, it allows easy integration with their online store, consolidating inventory across multiple sales channels and providing a familiar, trusted way to pay for Amazon Prime members.
How Does

Buy With Prime Work?
Buy with Prime works by seamlessly integrating with your ecommerce store to offer your customers a superior shopping experience. Upon installation, it enables the familiar one-click Amazon checkout process on your site, offering Amazon Prime members fast, free 1-2 day shipping and transparent delivery times. Meanwhile, merchants are able to manage orders, connect with customers, and even import their Amazon product catalog directly into their Buy with Prime catalog.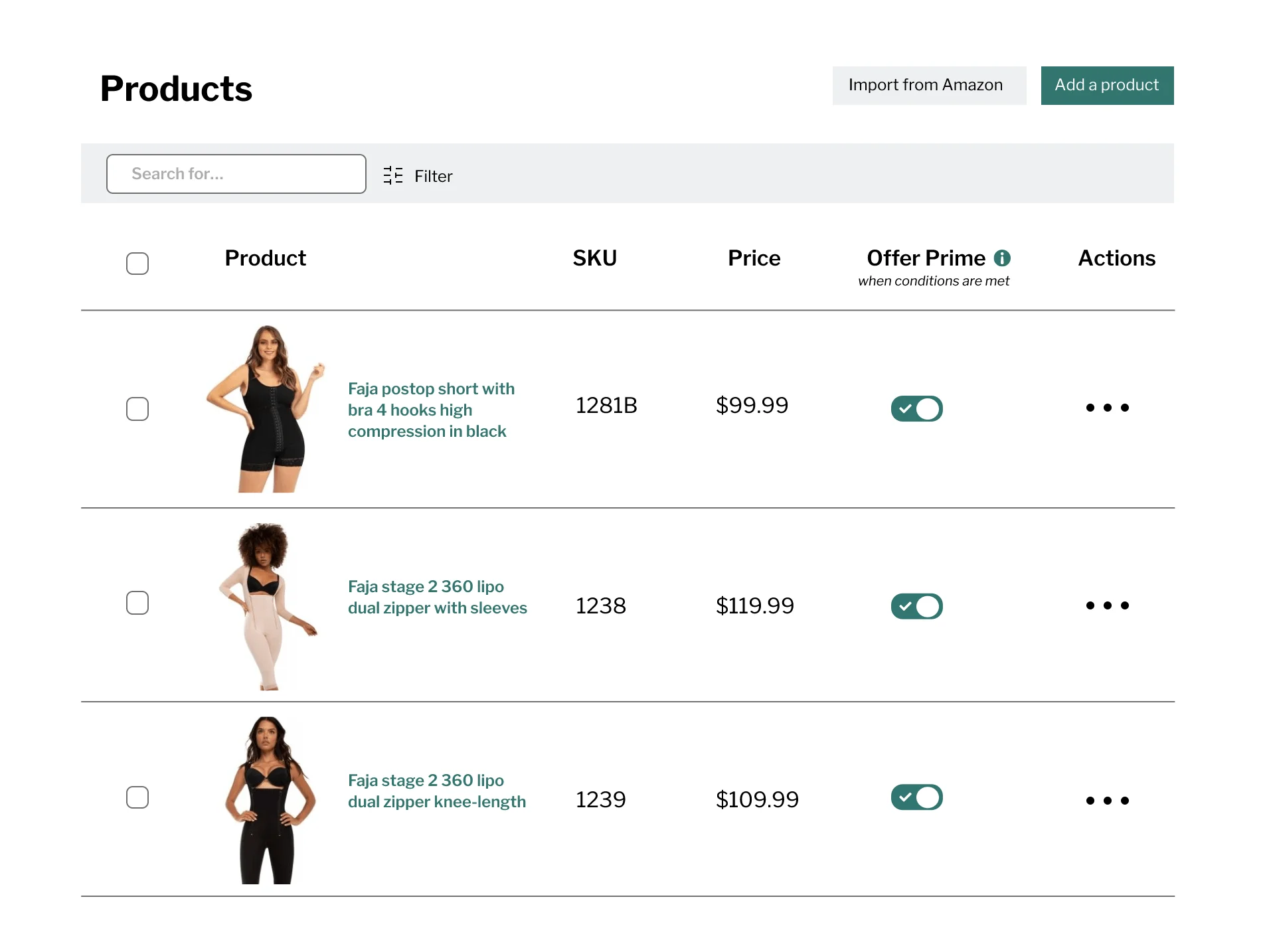 Why Implement
Buy With Prime
Implementing Buy with Prime on your ecommerce site isn't just a feature, it's a game changer. With Buy with Prime, you're not only offering your customers fast, free 1-2 day shipping and transparent delivery times, but also a trusted checkout experience that can boost shopper conversion by an average of 25%*. Beyond this, Buy with Prime provides you with valuable customer connection tools, efficient order management, and simplified product import from Amazon, all while facilitating post-sales support and seamless account linking. It's not just about enhancing your customer's shopping experience—it's about empowering your business to reach its full potential. *Data reflects the average increase in shoppers who placed an order when Buy with Prime was an available purchase option versus when it was not, during the same time period.
Experience Speedy Deliveries
Empower your customers with the gift of speed. Offer them the satisfaction of one-day and two-day Prime shipping – a joy every shopper loves.
Your Store, Your Connections
Take control of your customer relationships. You have the reins over your order information, fostering deeper connections with your clientele.
Partner with SpiderBoost for Seamless Integration
Already an FBA seller? Team up with us, a trusted Buy with Prime Partner Agency, for a smooth, efficient integration of Buy with Prime into your e-commerce site.
Frequently Asked
Questions